70+ hours of training literally at your finger tips, covering:
python programming
data visualization
data analytics
SQL
data science
machine learning
.
Yeah, yeah. Data is all the rage.
But knowing what the essential skills are and how to learn them properly is where it gets tricky.
You may just be starting out and already feeling overwhelmed with where to start…
Or you may be knee deep into it but still feeling like you're at square 1.
Still feeling confused. Overwhelmed. Unsure of how X connects with Y.
Let's make it easy. Simple. Step-by-step.
Here's everything you need to work as a data analyst, data scientist or anything in between that involves data literacy.
Broken down into 8 digestible checkpoints.

The All-Access Pass to the Data Checkpoint
Over 70+ Hours, 400+ Lessons, and 100+ exercises of comprehensive step-by-step data training; everything you need to go from data illiterate to data scientist.
All of the code-along lectures are on-demand.
Here are the missions included in the All-Access Pass to Data Checkpoint: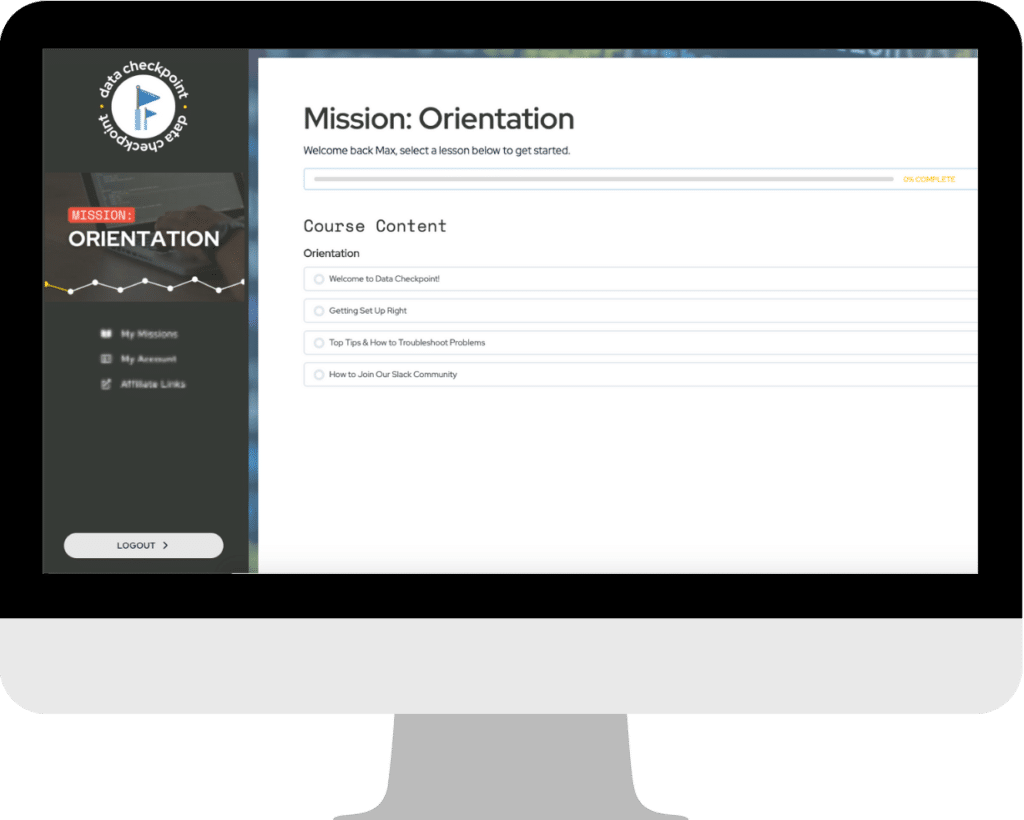 Lessons:
3

Watch Time:
1 Hour

To get you started on the right foot, we'll go over the learning roadmap and course structure first. We'll also go over troubleshooting tips and how to approach finding and solving bugs that arise through programming mistakes. 
I share all my best tips so you never rage quit on your brand new data journey.
After orientation, you'll be ready to jump into whatever part of the roadmap bests fits your current skills and desired goals.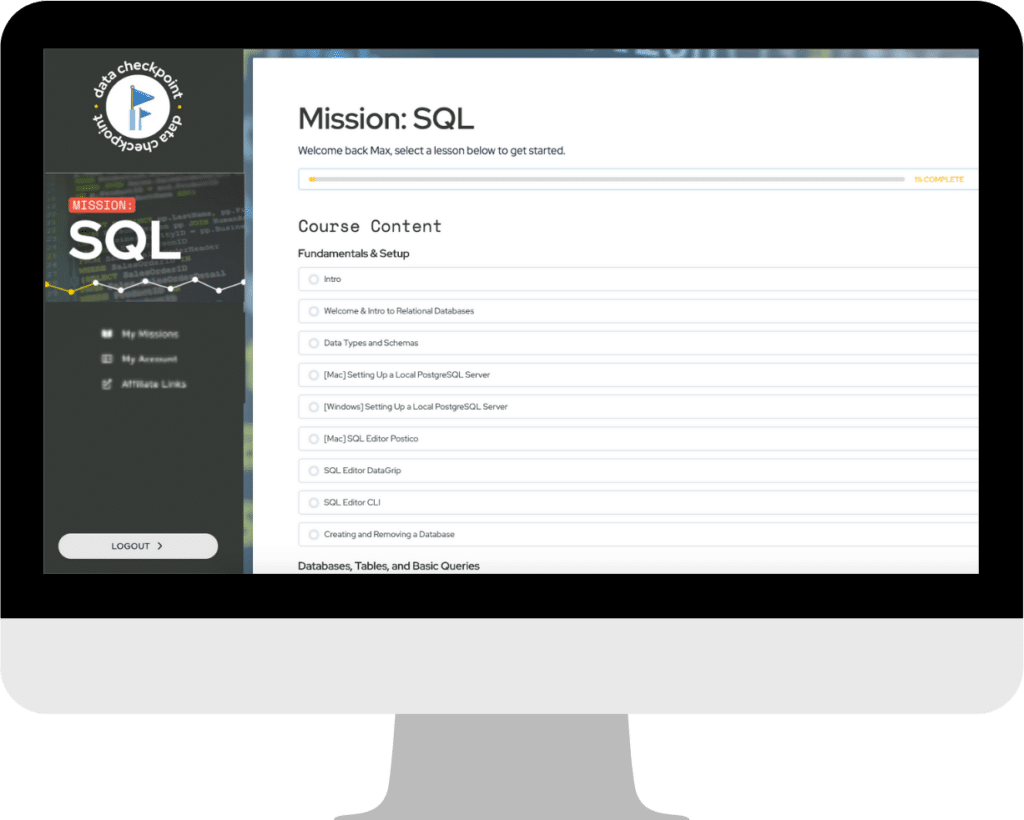 Lessons:
48
Watch Time:
6 Hours
Exercises:
5
The SQL mission is made up of the following modules:
After completing the SQL mission, you'll have a good understanding of what relational databases are and be able to write complex SQL queries to process and analyze data directly in the database.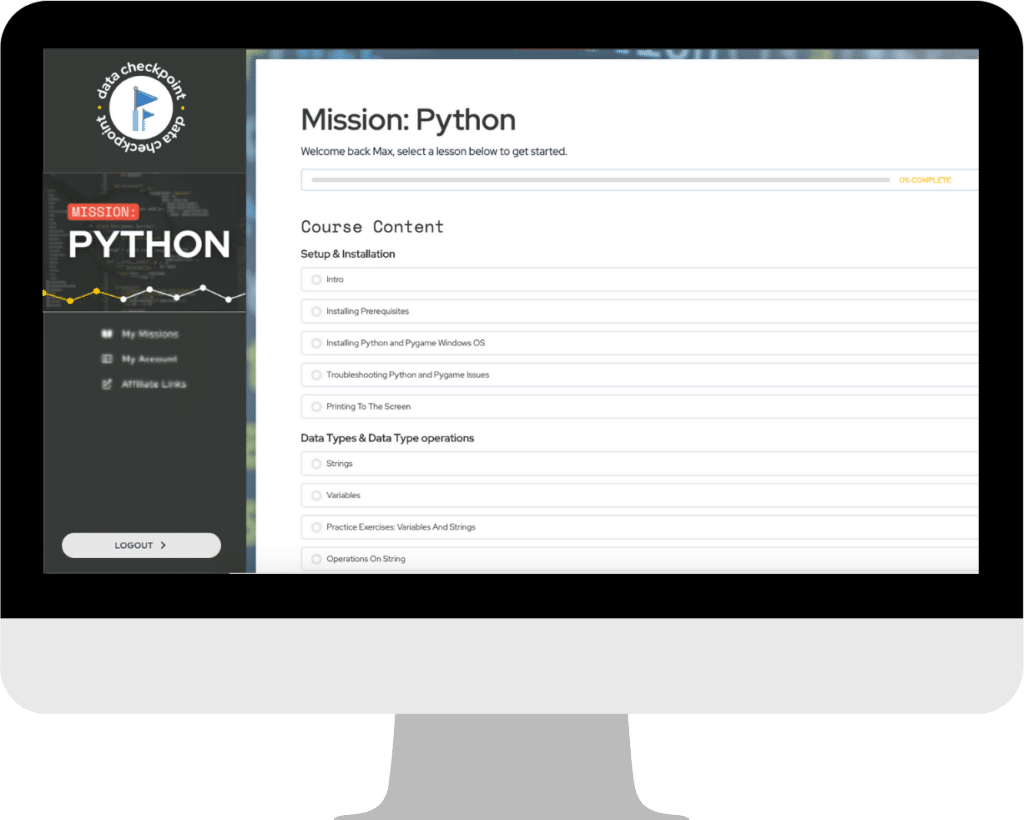 Lessons:
84
Watch Time:
13 Hours
Exercises:
24
The Python mission is made up of the following modules:
After completing the Python mission, you will have a solid Python programming foundation and will even have created a complex program, made up of several hundreds of lines of code, and be able to start programming your own projects in Python.

LEVEL 2: The "Data Analyst"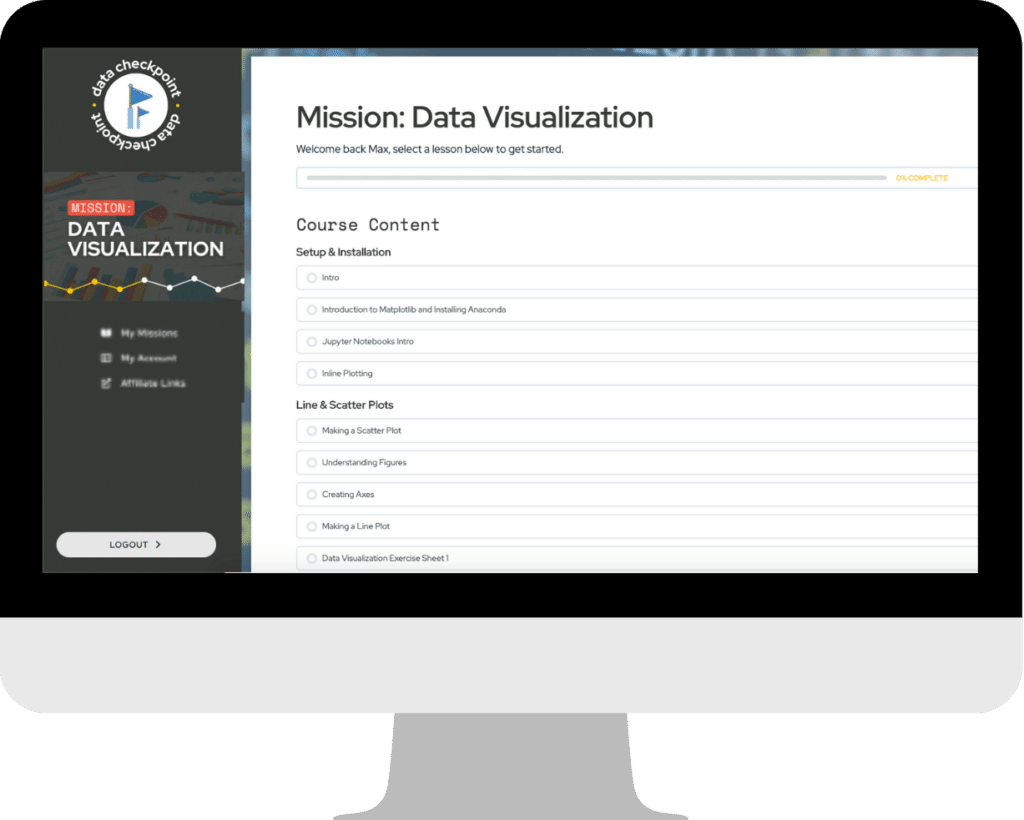 Lessons:
57
Watch Time:
10 Hours
Exercises:
27
Mission:
"Data Visualization"
In the Data Visualization mission, you'll learn how to make all sorts of visualizations using Python, and it's made up of the following modules:
After completing the Data Visualization mission, you'll be able to create and customize a large variety of visualizations so that you can do in-depth exploratory analysis and create informative visualizations to support your data storytelling and communicate your findings.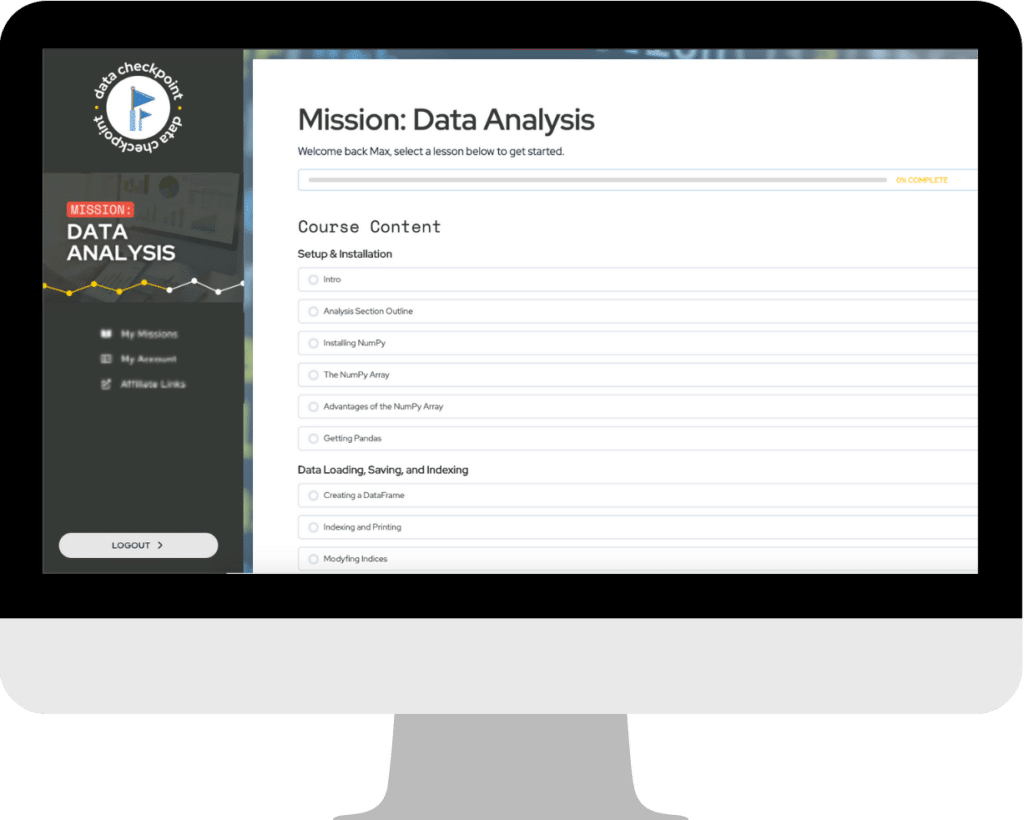 Lessons:
60
Watch Time:
8 Hours
Exercises:
18
In the Data Analysis mission, you'll learn how to wrangle, manipulate, process, and analyse data directly in Python. This mission is made up of the following modules:
After completing the Data Analysis mission, you'll be practiced exploring, manipulating, processing, and analyzing data using Python, and be able to apply it to other projects in whatever way you'd like.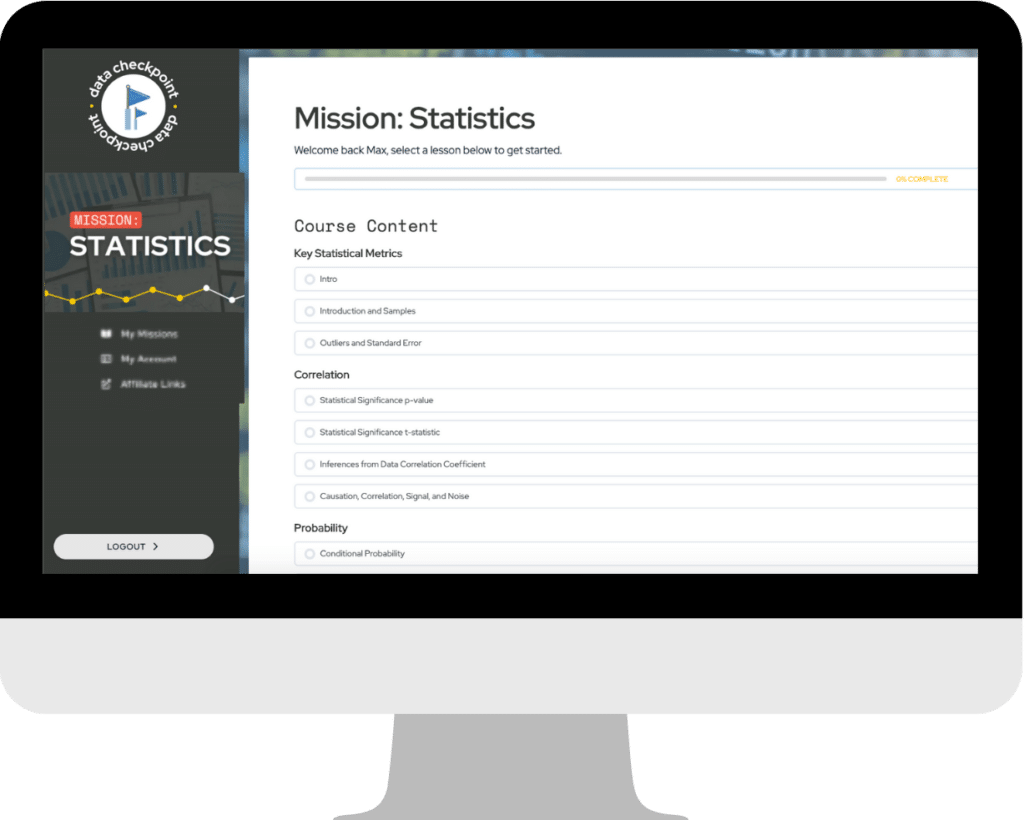 Lessons:
10

Watch Time:
2.5 Hours
In the Statistics mission, you'll learn core statistical concepts as well as how to use them in practice to correctly approach analytical problems and make proper conclusions. This mission is made up of the following modules:
After completing the Statistics mission, you'll know what types of metrics you need to calculate to properly understand error, evaluate A/B tests, and better discern between signal and noise.
LEVEL 3: The "Data Scientist"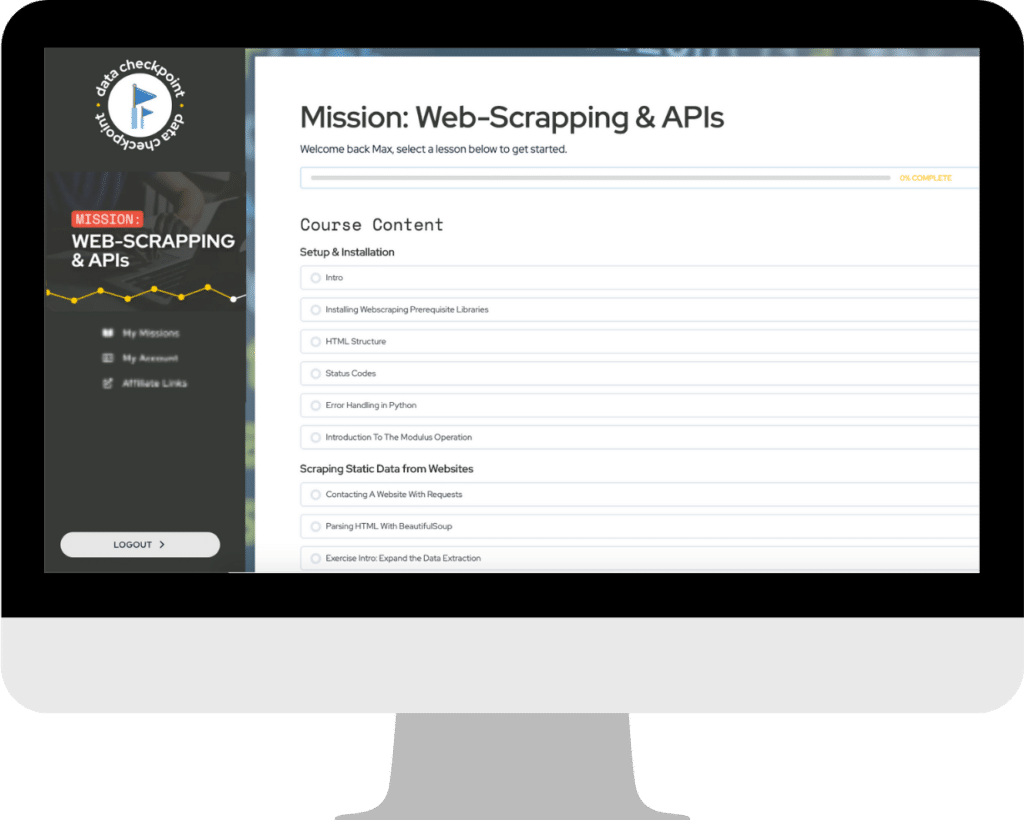 Lessons:
29
Watch Time:
5 Hours
Exercises:
10
Mission:
"Web Scraping & APIs"
In the Web Scraping & APIs mission, you'll learn how to gather data by using APIs, as well as how to write custom web scrapers to pull data directly off of websites. This mission is made up of the following modules:
After completing the Web Scraping & APIs mission, you'll be able to use Python to to get data from APIs, or use web scraping to gather data from all over the web.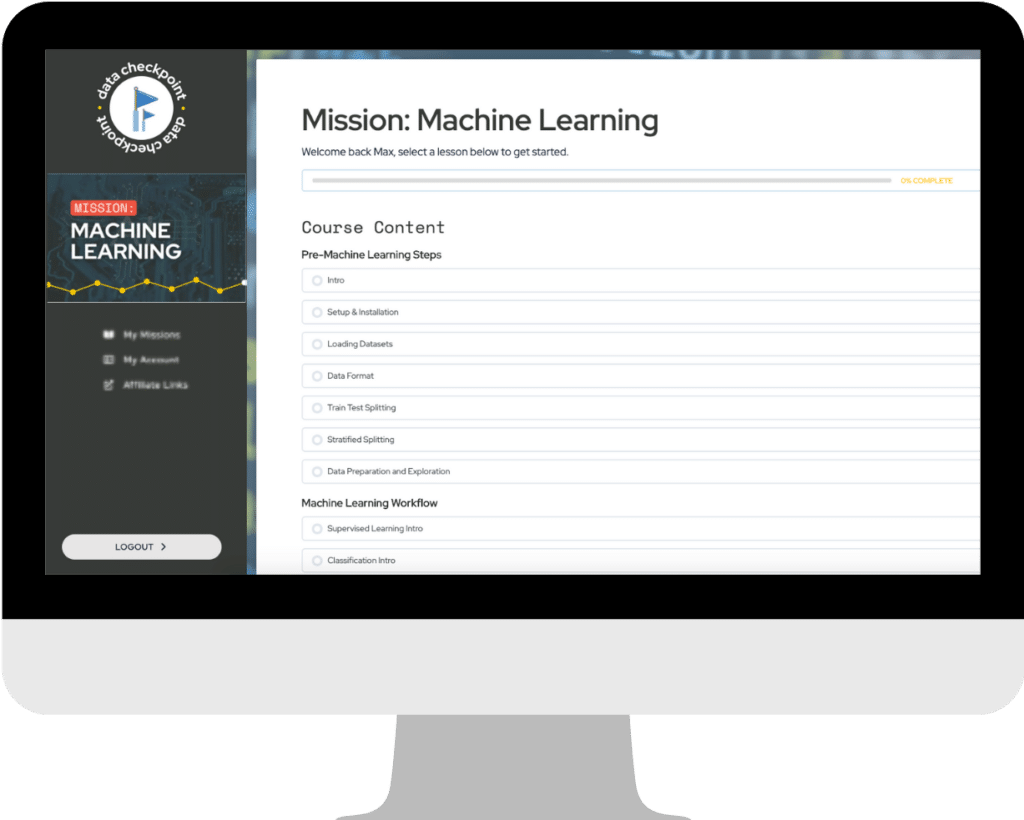 Lessons:
132

Watch Time:
26 Hours

Exercises:
30
Mission:
"Machine Learning"
In the Machine Learning mission, you'll learn the theory behind machine learning algorithms as well as how to implement them in practice.
After completing the Machine Learning mission, you'll understand how many machine learning algorithms work, and be able to implement Machine Learning models and solutions in Python.
Each mission comes with a set number of on-demand code-along video lessons as well as assignments and quizzes for you to practice your skill set.
8 missions. 8 checkpoints. 3 levels.
1 step-by-step path for your new data career.
And you'll unlock these additional free side quests and bonuses in Data Checkpoint:

Side Quest

: How to Use Kaggle

Side Quest

: How to Use 

GitHub
Bonus

: Cover Letter Template

Bonus: Cold Pitch Template
Bonus: Your Data Translation 101 Guide
Bonus

: Case Study Questions & Solutions
Bonus: Interview Questions & Solutions
Bonus

: Step-by-Step Portfolio Guide

Bonus: Linkedin Optimization Guide
Bonus: Statistical Cheatsheet
Unlimited access to your data training is just 3 mouse clicks (we counted!) away.
Here's what our students say...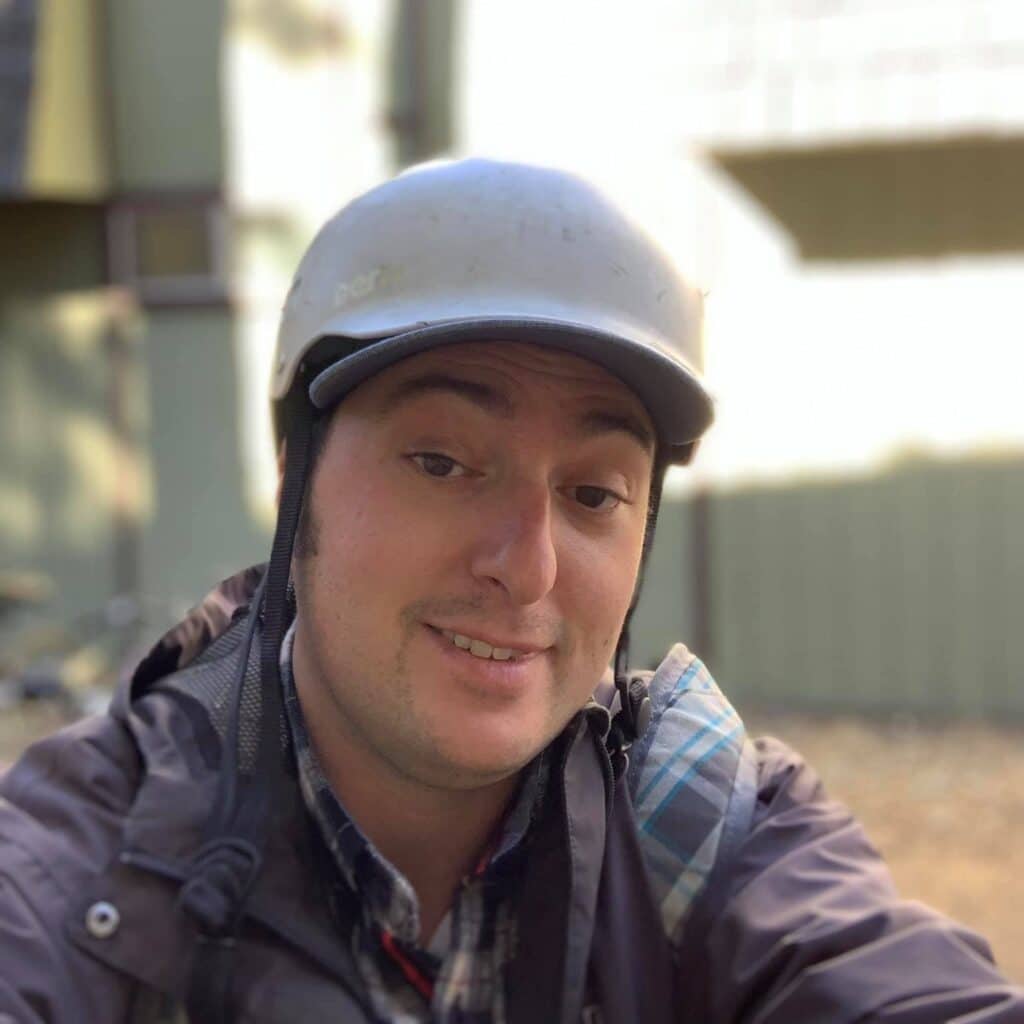 "You can't beat the value."
"Max lays it all out. All the videos are easy to follow, broken down into manageable sections and give you a clear understanding of the subjects.
I'm 6 weeks into the program and it is just flying by. If the course syllabus covers what you'd like to learn and where you want to go, it is definitely possible with Max's direction."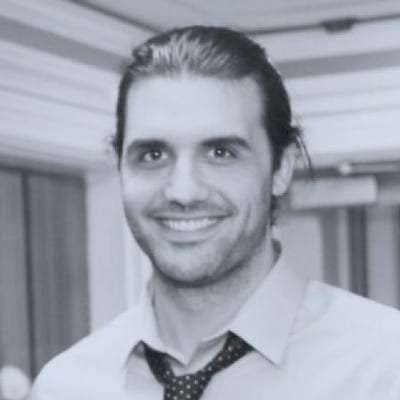 "I have almost completed a computer science BS, already have an AS in computer science with a computer programming specialist cert.
I can say with certainty that I already feel like I've learned more from your program than I have from an institutional education.
I am absolutely loving the course."
Ready for your All-Access Pass?
An all-access pass gets you access to ALL the course content mentioned above for as long as your membership is active.
BLACK FRIDAY - CYBER MONDAY // 50% OFF SPECIAL
USD PER MONTH
Monthly Recurring
USD PER YEAR
Yearly Recurring
THE 50% OFF DISCOUNT EXPIRES...
You've got a data with destiny.
(I'm only 20% sorry for that one.)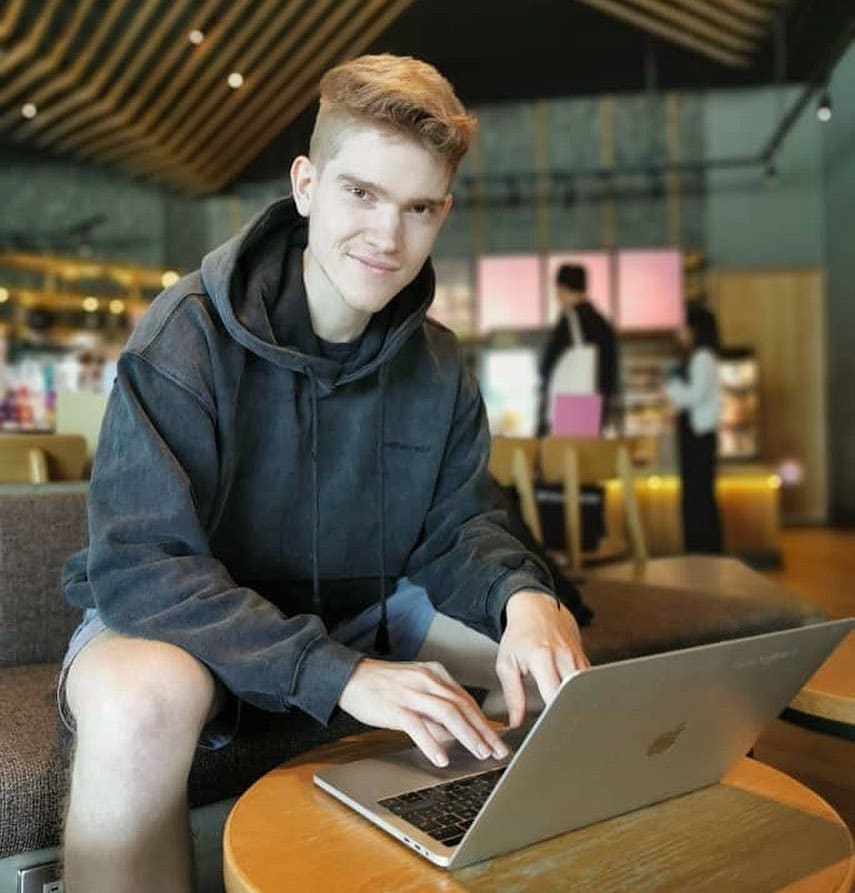 Hey! I'm Max. I like big data and I can not lie.
I'm a published Astrophysicist and self-taught Data Scientist who has been working as a Senior Data Scientist for the past 3 years.
Over the course of a few years, I taught myself Python, C, C++, Machine Learning, Data Science, Web-Scraping, how to interact with APIs and Data Mining out of interest and geekiness.
Now, I have over 22,000 students across various online platforms the valuable and highly demanded skills of programming and data science.
I hit my 8 data checkpoints over the past few years, and now – I'm excited to help you hit yours.
Here's what our students say...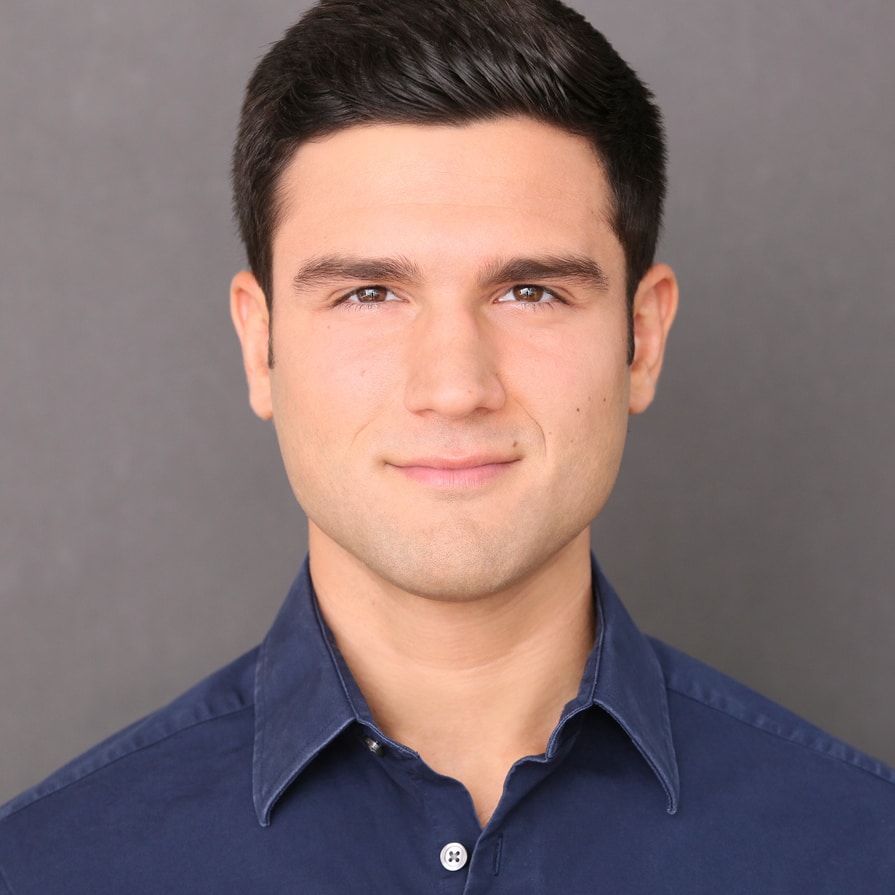 "He's a wealth of knowledge on the entire process of becoming and building a career as a data scientist.
His passion for helping people achieve their goals in this field is clearly on display with every webinar, course, and consultation that he graciously offers. Just one call with Max is all it took to set me in the right direction, and I have no doubt that his work will do the same for you."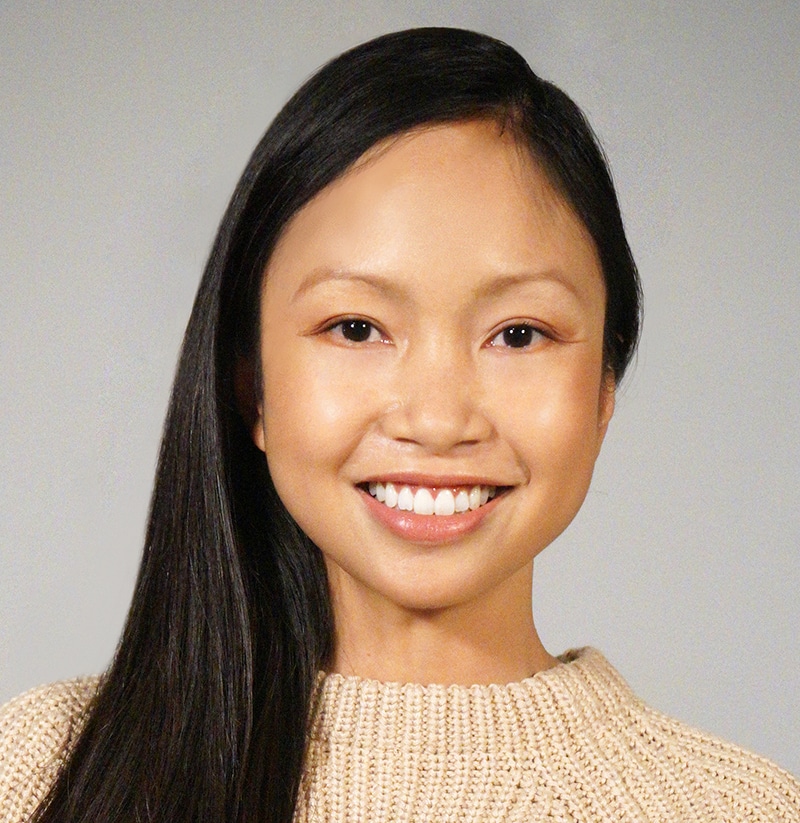 "Max's method combines theory with practical application, putting into place a much more visual goal."
"The Python section has really helped me understand the fundamentals of programming while making it fun. Making the game made it so much more dynamic and easier to understand. It's perfect for beginners, not only does it explain things well but it also gets you interested in the field."
Frequently Asked Questions
Here's what our students say...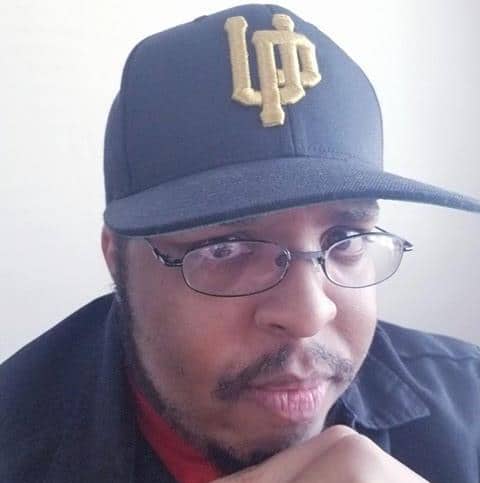 "I started this with barely any knowledge of Python, but by the end, I felt confident about my abilities."
"Max is very clear and easy to understand. Max clearly explains all concepts and makes you forget you're a beginner. Max also teaches you how to troubleshoot and think like a programmer, which most courses also neglect. I can definitely tell the difference between the free information and this course, I definitely recommend. I look forward to more courses from Max!"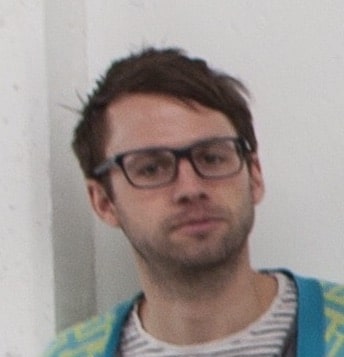 "I am an absolute beginner and did this training to get basic ideas of Python."
"This course was a great introduction into coding by starting off with basic functions which are then used to code an actual game. As a complete beginner, I found it a bit challenging at times, but Max's explanations and examples made it easy to follow and understand. Great course, thanks Max."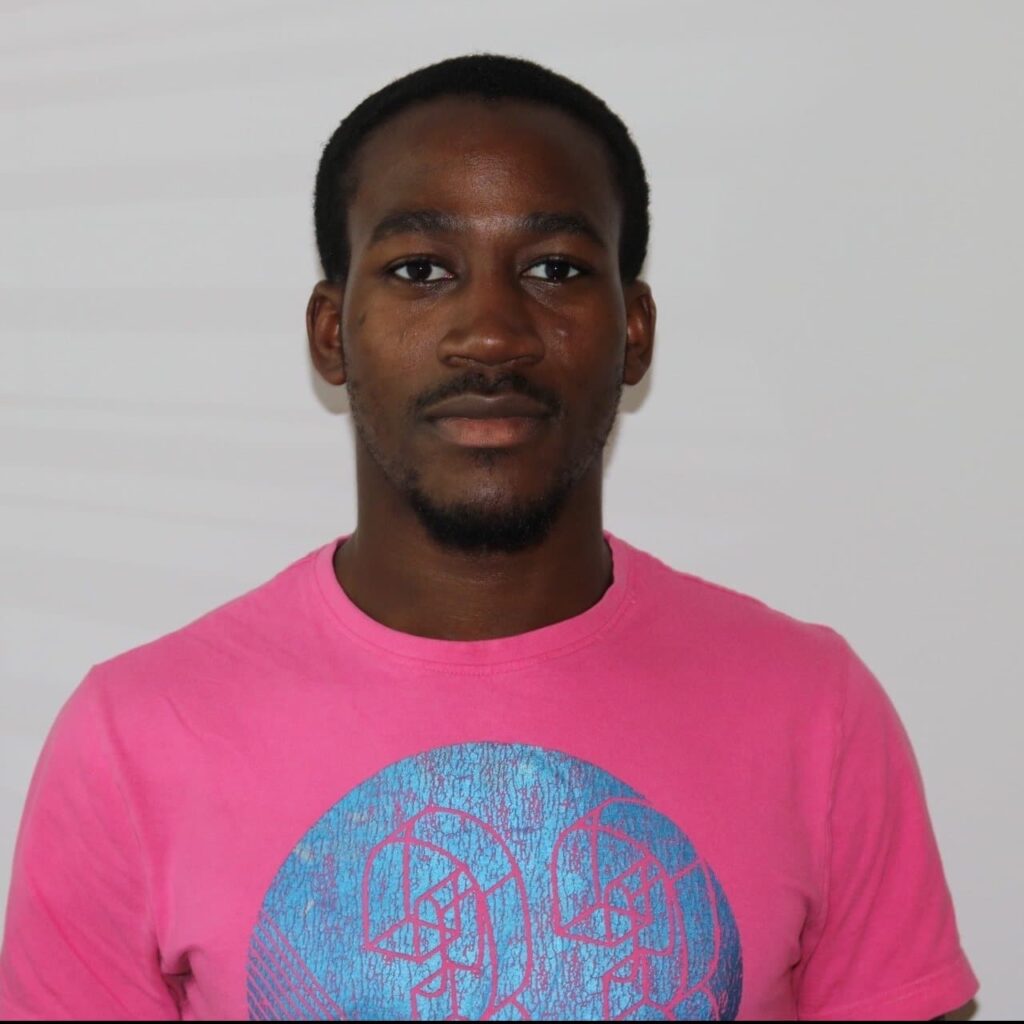 "Would I recommend this course? Yes, I've already recommended this course to numerous friends now."
"I had no prior experience with SQL before this course. I had attempted starting other courses but I am on a tight schedule and I needed a more efficient introduction to SQL. After this course, I now have a solid foundation in SQL. I feel confident in create my own database and utilize preexisting data."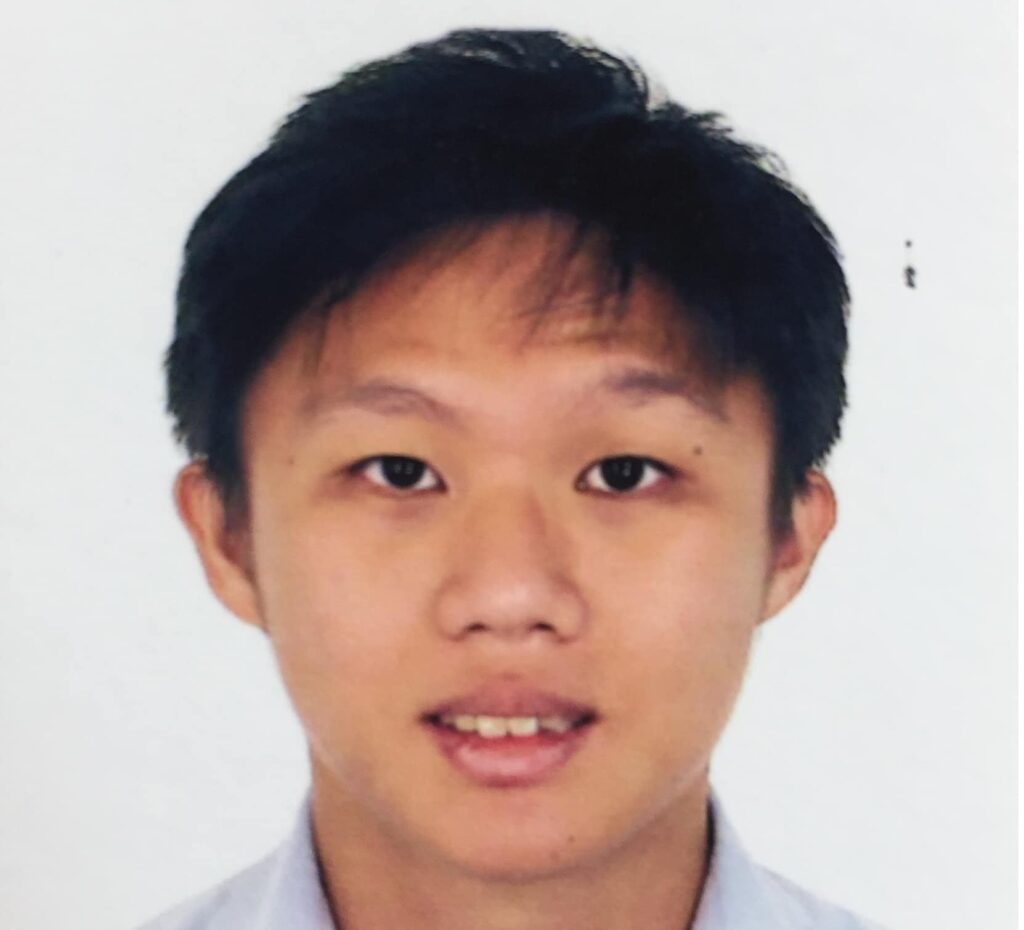 "Intensive training which allows learners to get up to speed over a very short period of time (the Python section was just days for me)."
"I like Max's style of teaching with practical examples and also explaining his thought process and how to find mistakes during the actual writing of the code, which will be aplenty for beginners. I believe interested learners will benefit from this course. Thank you, Max!"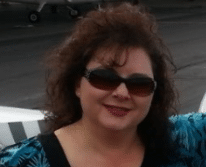 "Would I recommend this? Yes, of course. It was very well put together."
"I haven't worked with SQL for almost 20 years, so it was time to get up to speed on tools and syntax. Thank you for the easy to follow SQL mission! It really helped me understand key concepts as well as new things I never learned initially. Appreciate it!"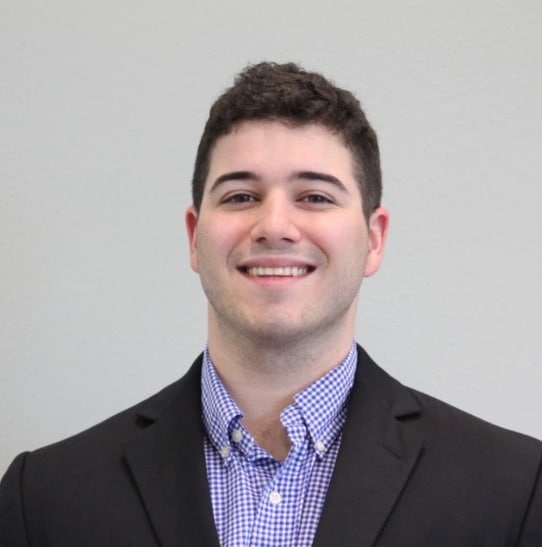 "The SQL training was the perfect summary of all the material I spent years trying to understand, but couldn't grasp until now."
"Before this course, I was formally taught SQL through college courses and internship experience, but didn't fully grasp a lot of it until this course.
After this course, I have a much clearer understanding of writing SQL queries than before. I can now use this knowledge going into my next job interview, as well as continue to practice my SQL skills with the knowledge provided here.
I would absolutely recommend this course."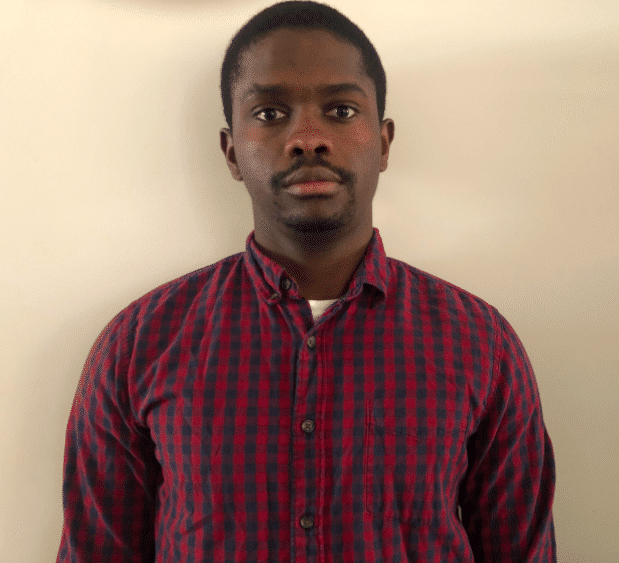 "I have gotten a great understanding of SQL through the SQL mission, and I was able to directly apply what I've learnt in my work."
"I'm currently training to become a full time Data Analyst or Data Scientist."
Unlimited access to all the data training you need to work as a data analyst, data scientist, or data literate human.
Ready for your first mission?